Every citizen should have access to quality services such as education, housing, health, social and municipal services. Especially acute is this need in times of war, crisis, and emergencies. Russia's large-scale invasion of Ukraine was no exception: new payments for IDPs or housing were added to the existing requests of residents.
Now, people require services that can be provided online, without significant time costs and searching for the right institutions in unfamiliar cities. Thus, 3 out of 5 adults used electronic public services during 2022.
"During the war, we realized that electronic services were a priority… We have a lot to learn from the system of provision of administrative services that find points of contact with citizens, and judging by the quality of such services, we can understand how the state copes with the challenges," says Minister of Justice of Ukraine Denys Malyuska.
Electronic services are administrative or other public services provided to citizens in electronic form. They are not only about convenience for both the authorities and residents, but also about reducing corruption risks through the de-bureaucratization of services and minimizing the number of people involved in their provision.
Providers of services can be both public authorities and local-self governments. At the same time, the majority of residents' requests are most effectively solved locally, given the proximity to the applicants and providers. For example, electronic registration in kindergartens is not carried out by the Ministry of Education and Science, but by the local education department or directly by educational institutions because they are best aware of the number of places available for enrollment or the maximum number of children in groups.
So, how do Ukrainian cities use digital services, what electronic practices are used by foreign municipalities, and how do digital services help overcome the challenges of war? Let's find out in more detail.
E-Tools in Ukrainian Cities: Wartime Experience
In 2022, the Transparent Cities team of Transparency International Ukraine studied the transparency of 70 rear cities in war conditions on the basis of criteria for organizing the work of city councils, publishing information on official resources, providing access to services and databases.
Among other things, we analyzed the city councils for the availability of electronic tools that allow applying for housing, ordering a place or service in city social assistance institutions, registering a child in an educational institution, as well as leaving a complaint about the work of urban land improvement or housing and municipal services.
We chose the following criteria because of the main challenges of wartime:
The psychological, physical, or material damage provoked by the war leads to an increase in the number of people in need of social assistance. In addition, there are categories of people who required this kind of service before the large-scale war.
Millions of displaced people have left their homes and are forced to look for new jobs, as well as educational institutions for children. Thus, education is among the dozens of problems that are of most concern to IDPs.
A significant part of the population requires housing, in particular temporary and social, from the balance sheets of municipalities. After a year of the full-scale war, russia damaged or destroyed more than 150,000 houses and completely destroyed 10 cities.
The shelling of Ukrainian cities destroys infrastructure and amenities, which affects the provision of municipal services to the population.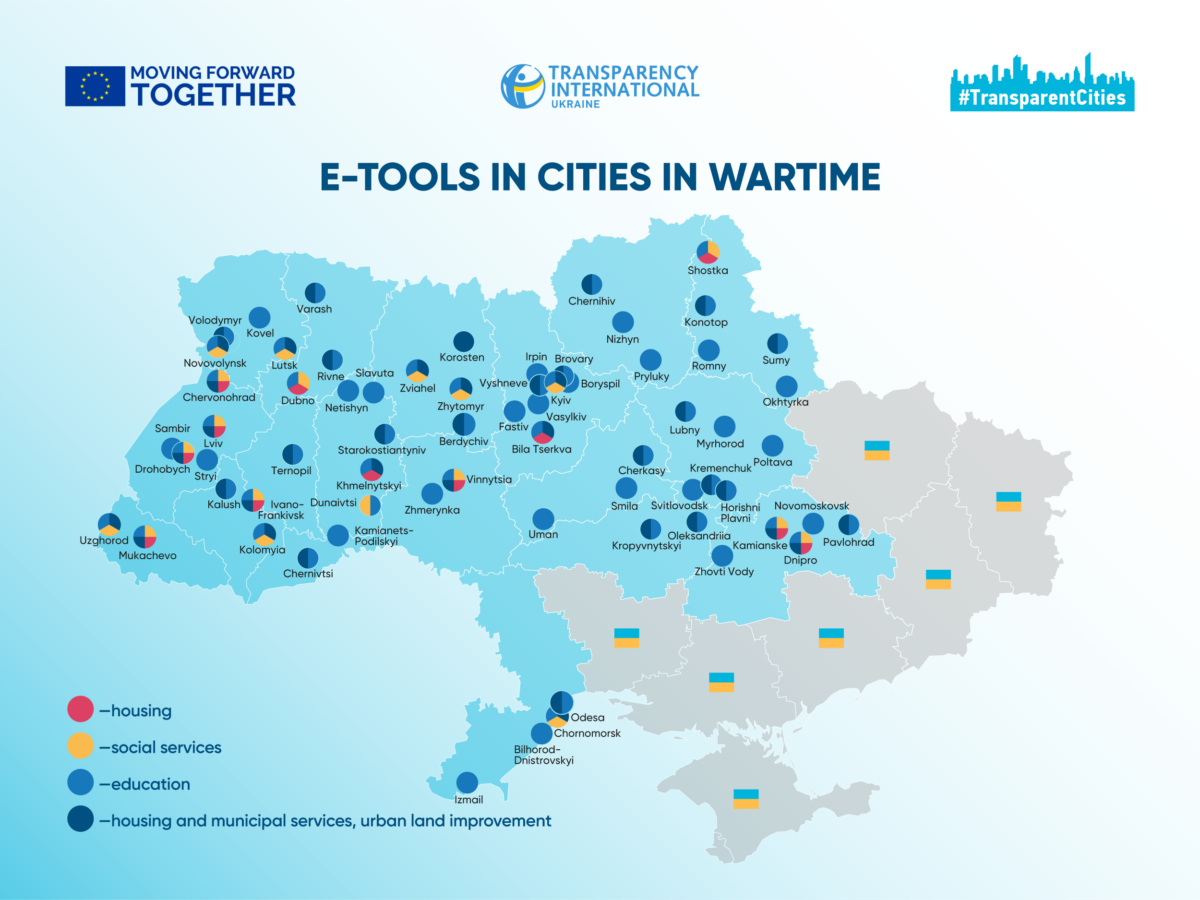 Of the 70 cities studied, only 12 provided the possibility to electronically register housing applications. City councils implemented this criterion in different ways: in half of the cities, more complex technological solutions were developed, other municipalities created special online forms or joined existing services. Thus, in Khmelnytskyi, Vinnytsia, and Drohobych, an application for housing can be submitted through the resident's account. Dubno and Bila Tserkva have created special online forms, while in Shostka, you can send documents and applications to an e-mail to become registered. Dnipro and Kamianske use the national IGOV resource.
About a quarter (19) of the studied cities have e-services or e-tools that relate to social services. This result is partly because the development of electronic tools for obtaining social services is not required by law and takes up significant resources. City councils provide electronic registration of applications for social services in various ways. Lviv has a separate website, Kyiv, Drohobych, and Uzhhorod provide an option on the electronic service portal, Kolomyya, Ivano-Frankivsk, and Lutsk provide online forms, and Zviahel and Chornomorsk have a chatbot "Svoyi," developed by the Ministry of Digital Transformation in cooperation with the East Europe Foundation.
More effectively, cities provide residents with tools for filing complaints and appeals, as well as for electronic registration in municipal educational institutions. This is because during the COVID-19 pandemic, to ensure anti-epidemic measures and avoid crowds, city councils and their subordinate institutions developed tools for remote access to services. So, in wartime, the cities already had ready-made tools. In addition, to ensure the rights of citizens to online applications for enrollment in educational institutions or complaints about the work of housing and municipal services, national resources have been developed, such as the service "Open City" on the "E-Dem" platform and the system of electronic registration in the secondary and preschool education institutions.
Forty of the 70 city councils studied have a platform or tool for responding to complaints. A quarter of cities (10), such as Lutsk, Kyiv, Odesa, Dnipro, Brovary, and Chernihiv, have developed a special map of appeals, which allows not only leaving complaints, but also tracking their status, providers, territory of localization of problems, etc. 19 out of 40 municipalities developed their own forms of appeals (Kalush, Oleksandriia, Horishni Plavni) to promptly respond to residents' requests. Another 8 city councils use the "Open City" service, and 3 use the "Svoyi" chatbot.
35 cities provide remote registration in schools or kindergartens, another 32 allow submitting an online application for enrollment either in a school or in preschool education institution. Despite the availability of national resources for registration in secondary and preschool education institutions, some cities use their own services. For example, Kolomyya, Odesa, Kropyvnytskyi, Ivano-Frankivsk, and Ternopil city councils have special websites. In Kalush, you can register a child in kindergarten by filling out an online form, and in Lubny — by sending documents to an e-mail address.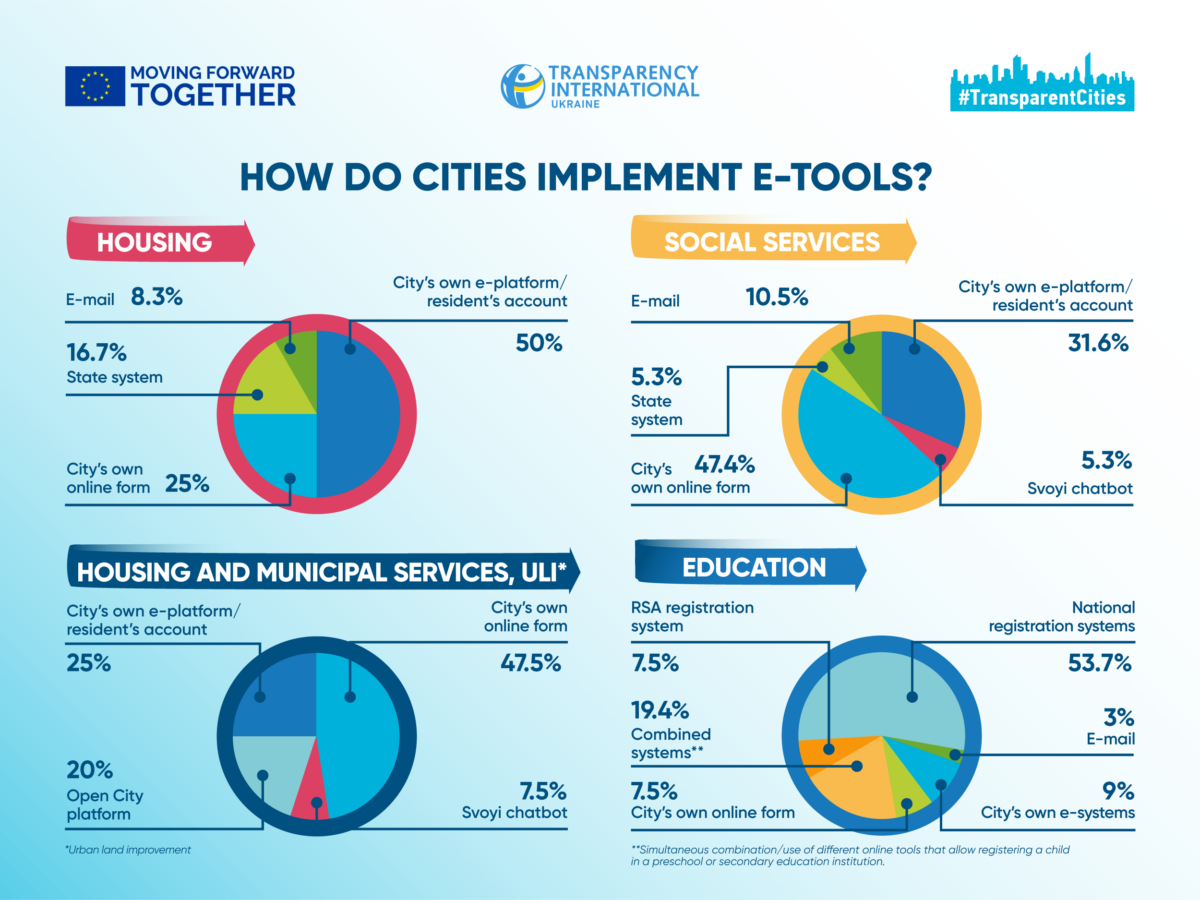 Why is it important for cities to implement such tools?
Electronic services are designed to form the infrastructure of electronic services, and help:
Optimize resources. Electronic solutions allow reducing the number of employees involved, the time for accepting applications, and the volume of manual (paper) work.
Feel safe and experience social cohesion. Online services are designed to help specific people who are in a vulnerable situation. In addition, the opportunity to be provided with services in a convenient way, especially for vulnerable categories of people, contributes to the inclusiveness of services because all social groups have access to the distribution of resources, regardless of their status or financial capabilities.
European Practices: What Can Ukrainian Cities Borrow?
Electronic services are unevenly and unequally developed in the EU. The situation is provoked by the diversity between member states and their political systems, insufficient funding and lack of quality standards. Despite this, the EU seeks to improve the current situation. Thus, within the framework of the Urban Agenda for the EU on Digital Transformation partnership, cities, EU countries, and the European Commission are working together to provide more efficient public services, support cities in using digital tools in the field of health and social security, e-governance, urban planning, etc. In addition, the field of electronic services is increasingly deregulated and assigned to regional and local authorities. Therefore, individual municipalities promote the widest possible access of the population to electronic services.
Barcelona City Council has developed a service to register children in preschool, primary, secondary, and special education institutions. Its significant advantage is that one separate site contains all the necessary information about all educational institutions of the city and the features of their educational process — the deadlines for submitting applications, the conditions for enrolling children and obtaining scholarships, document templates, features of learning for those who, due to illness, cannot attend educational institutions and even guides to educational institutions. In fact, a separate educational "ecosystem" was created at the city level.
A similar e-portal is planned to be launched in Ukraine. Thus, according to the Minister of Digital Transformation of Ukraine Mykhailo Fedorov, registers of schoolchildren, teachers, and all schools are currently being formed, and an electronic opportunity is being developed to move from one institution to another.
In total, the Barcelona City Council has provided an opportunity to receive about 450 services online. All of them are collected in the account of a resident on a special web resource of the city, which greatly facilitates access to services.
Vilnius residents can remotely be provided with almost 270 services related to tax policy, education, architecture and construction, health care, housing, advertising, environmental and agricultural spheres, and entrepreneurship. In Lithuania, unlike Ukraine, public and administrative services provided at the city level are gathered on a single resource. Therefore, to receive services, residents need to register either on the municipality's website or on the government portal.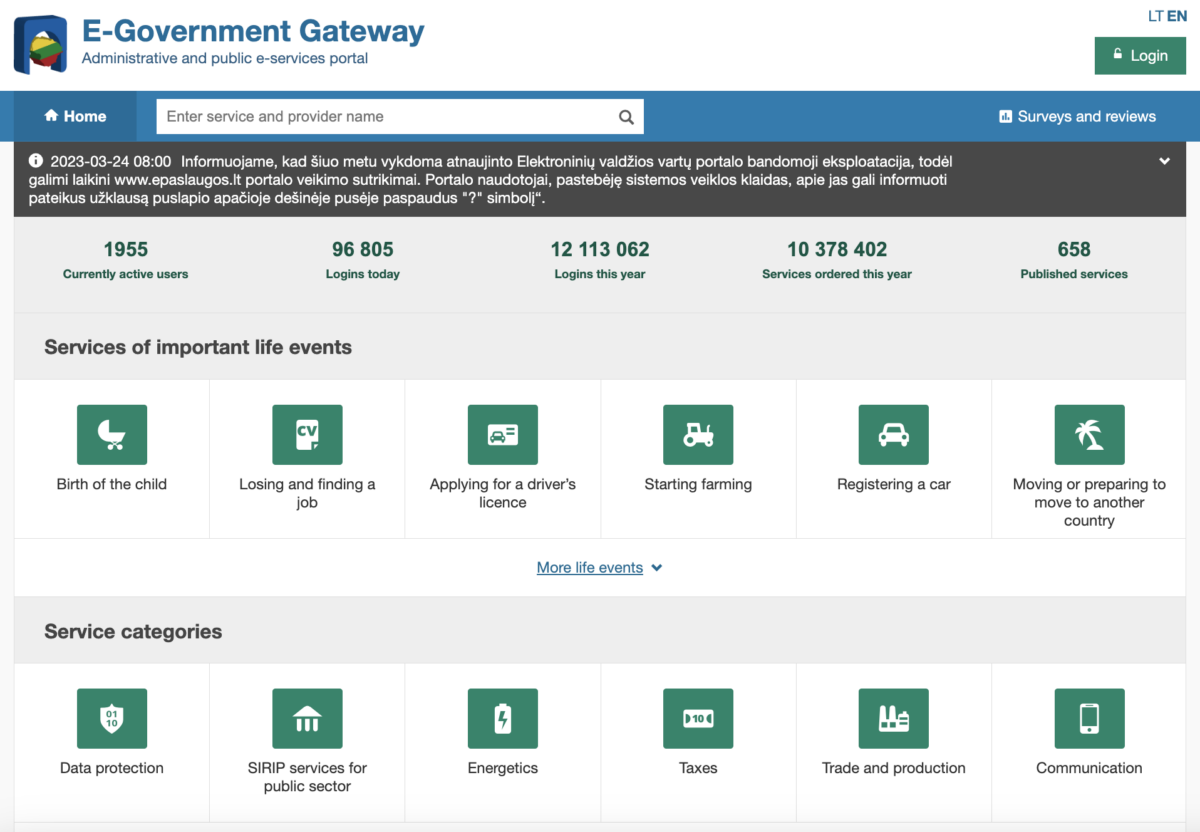 For individual services in Vilnius, special sites were developed. For example, you can leave a complaint about urban land improvement and housing and municipal services on the map, which allows getting acquainted with the essence of the problem, the status of the application, and the responsible service providers. This tool is similar to those that Kyiv, Lutsk, Brovary, and Odesa have. In addition, residents of Vilnius can register requests for rent of social housing online.
In some countries, digital services are developed not only for citizens, but also for foreigners. Thus, in Germany, a special application was developed for immigrants from Ukraine, which helps open a bank account, apply for support in accordance with the Federal Training Assistance Act, or register with the Federal Employment Agency.
E-services are a component of e-governance, designed to ensure the convenience, speed, versatility, and transparency of the provision of services to the population. Such digital tools are becoming necessary right now, during the full-scale war, when the number of people in urgent need of social assistance, housing, or education is growing sharply.
In addition, providing people with access to e-services is not always about complex technological solutions. Sometimes it is enough to create an online form or an e-mail address, and this will allow citizens to order services in a convenient way, and municipalities — to use available resources more efficiently and quickly respond to the local context.