Lviv and Vinnytsia, according to the results of the update check, have a total of 18 points, and Bila Tserkva has 16.75 points. It is the data of the intermediate analytics of the Cities Investment Transparency Ranking.
Khmelnytskyi became the leader in points growth. But due to low performance in last year's ranking it failed to reach the top.
In 2018, Transparency International Ukraine for the first time developed a methodology to assess the transparency of the cities' investment sector and ranked them according to it. Among the evaluated indicators, in particular, existence of anti-corruption programs, information on the inspection of the activity of the city enterprises, the presence of the city investment passport etc.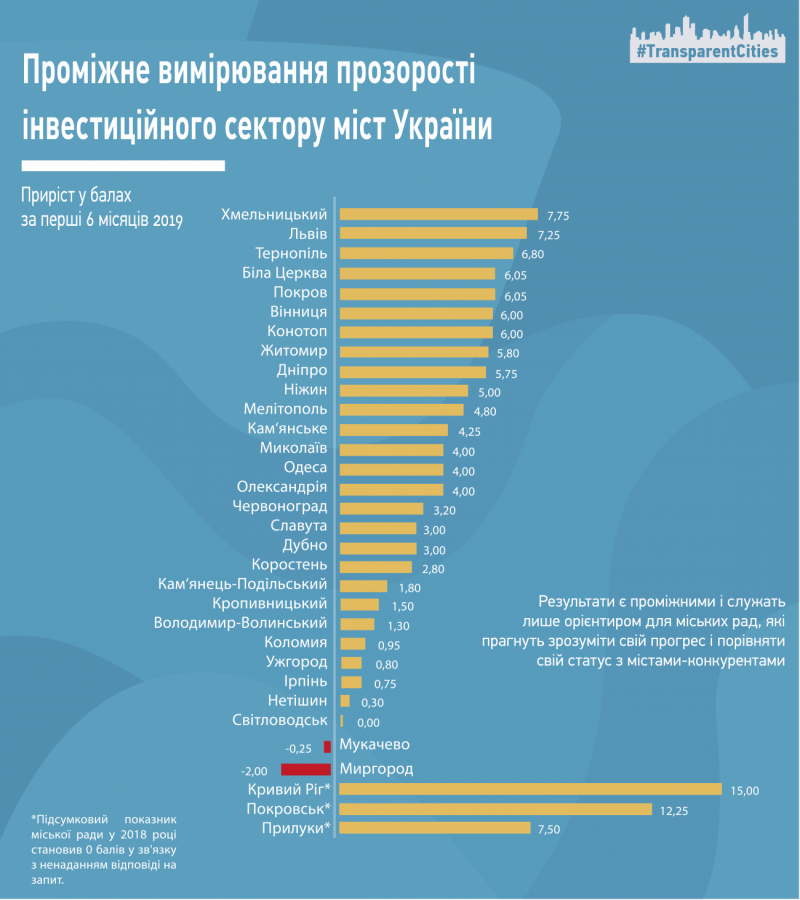 By working on investment transparency, city councils are more likely to attract funding, and businesses are getting a signal about reliability of a local partner. As a result city gets new jobs and increases its' comfort and well-being.
This time we received data from three city councils that did not respond to our request last year. This is Kryvyi Rih city council, which showed a good score of 15 points, Pokrovsk city council, which ended up with 12.75 points and the Pryluky city council with a score of 7.5 points. While Mukachevo and Mirgorod lost their points. More study data at the link.